China has pledged to cut PM2.5 concentration by at least 15 percent year-on-year in 28 northern cities from October 2017 to March 2018 to meet smog reduction targets.
The Ministry of Environmental Protection has released a 143-page action plan, listing detailed targets, controlling measures and punishments. The action plan covers Beijing, Tianjin and 26 other cities in the smog-plagued provinces of Hebei, Shandong, Henan and Shanxi.
Among the 28 cities, Beijing, Tianjin and Shijiazhuang, Hebei province, will have to meet higher targets. The three cities must cut PM2.5 concentration by 25 percent year-on-year between October 2017 and March 2018, and the number of days with severe air pollution are to be cut by 20 percent.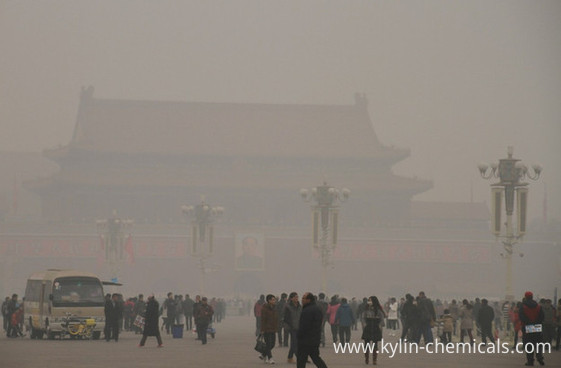 The plan also sets various reduction targets for the rest of the 28 cities based on their current pollution level.
The central government required the Beijing-Tianjin-Hebei region, by the end of 2017, to lower the regional concentration of PM2.5 by 25 percent compared with the 2012 level, and Beijing must lower it to 60 mg /CBM.
The frequent heavy smog in January and February this year has hindered achievement of the 2017 air quality targets. Consequently, the controls of PM2.5 in the remaining two months are critical to decide whether China can achieve the 2017 targets or not.
Under such pressure, the ministry has issued a package of strict controlling measures, from pollution monitoring and industrial production restrictions to punishment of polluters and government officials who are remiss.
Many industrial production capacities must be shut down again in the following months, in order to coordinate with the governmental 2017 air quality target. Supplying shortage at many industrial raw materials might occur soon in the coming weeks. Kylin Chemicals` market analysis forecast that the market will be more tight in the following 3-5 months, covering their supplying chain at following materials.
Organosulfur Compounds
Sodium dimethyl dithiocarbamate
Sodium / Potassium Ethyl Xanthate
Sodium / Potassium Isopropyl Xanthate (SIPX, PIPX)
Sodium / Potassium Butyl Xanthate (SBX/PBX)
Sodium / Potassium Isobutyl Xanthate (SIBX/PIBX)
Sodium / Potassium Amyl Xanthate (SAX / PAX)
Methyl Isobutyl Carbinol (MIBC)
Isopropyl Ethyl Thionocarbamate (IPETC)
Sodium Diethyl Dithiophosphate
Sodium Disobutyl Dthiophosphate
Chelants & Sequestrants
1-Hydroxy ethylidene-1,1-diphosphonic acid
Aminotri(methylene phosphonic acid)
Ethylenediaminetetraacetic Acid
Diethylenetriamine penta(methylenephosphonic acid)
2-Phosphonobutane-1,2,4-tricarboxylic acid
Quaternary Ammonium Compounds
Benzalkonium Chloride
Dioctyl Dimethyl Ammonium Chloride
Didecyl Dimethyl Ammonium Chloride
Dioctadecyl Dimethyl Ammonium Chloride
Biocides
Glutaraldehyde
Isothiazolinone (CMIT/MIT)
2-methyl-4-isothiazolin-3-one (MIT)
2-N-Octyl-4-Isothiazolin-3-One (OIT)
2,2-Dibromo-2-Cyanoacetamide (DBNPA)
2-Bromo-2-Nitro-1,3-Propanediol (BRONOPOL)
Tetrakis (hydroxymethyl) Phosphonium sulfate (THPS)
Tributyl Tetradecyl Phosphonium Chloride
Water Soluble Polymers
Cationic, Anionic and Nonionic Polyacrylamide
Polyacrylic acid
Sodium Polyacrylate
Acrylic acid - maleic acid copolymer, sodium salt